Layflat Binding
Our Layflat design has no distracting gutters. It's ideal for full panoramic spreads
No Logo
Saal Digital refrains from placing logos on our products. It is also possible to remove the barcode.
True colours
Absolutely colourfast for at least 75 years
Discover Now: Professional Line Photo Products
For the love of photography: Saal Digital's new Professional Line. Experience high-quality premium photo products with an acrylic photo book and our handmade premium gift box.
Layflat Binding
Perfectly flat page layout
Thanks to the Layflat binding, you can personlise a book with your images across an entire double page spread without losing important picture elements! In order to provide you with sufficient space, our photo books range from 26 to 160 pages, depending on your choice of page type. You can also easily add more pages to any photo book in two page increments.
Premium Photo Book Cover
Leather White
Leather Sapphire Black
Leather Titanium
Wood Look Slate
Wood Look Taupe
Cork
Natural linen
Matte
Glossy
Padded
Unpadded
Unique and stylish presentation
Enjoy maximum creative freedom by choosing the perfect cover for your photo book. You can opt for a photo cover in a glossy or matte finish, or choose one of our various special covers. The glossy and the matte photo cover can be designed with individual photos, text and clip arts.
Special cover with personalized text
Our special covers in leatherette, linen, cork or with a wooden look give your photo book a particularly refined appearance. Each special cover is available in different colors, and you can include a personalized inscription or add different clipart. You can also order your special cover as is and enjoy a crisp, clean look.
Photo Book Pages
Glossy Photo Paper
This surface achieves high quality results. It is particularly suitable for bright and colorful images.
radiant colors
fascinating depth
Matte Photo Paper
The semi-gloss surface has a fine but uniform structure. Fingerprints are thus reduced to a minimum.
semi-gloss finish
fewer reflections
HighEnd Print Matte
Featuring an uncoated paper with a natural feel as a surface used, this creates a deep matte colour impression.
no reflections
less sensitive to moisture
Photo Book Gift Box
The Premium Gift Box
Noble leather look, handmade and without the manufacturer's logo: Experience our premium gift box and give your photo book that certain something. Suitable as elegant, customizable gift box for a stylish presentation and for safe storage of your new photo book.
The Gift Box
Simple and classic, the entry-level model of our gift box made of cardboard in a modern design is attractive for giving away or storing your new photo book. Make yourself and others particularly happy with it.
Your Photo Book without a Barcode
No Barcode
Optionally, the barcode can be omitted, allowing you to personalize your photo book for a classy and high-quality presentation of your pictures.
No Manufacturer Logo
We do not include our logo on any of our photo products. However, our photo books contain a small barcode on the back cover and on the last page. These barcodes do not contain any reference to us as a manufacturer or to you as a customer.
Photo Book with a Padded Cover
Your Cover with a Soft Padding
Enhance your premium hardcover photo book with another feature by choosing the "padded" option. The cover is filled with an additional soft padded layer (3 mm) and adds a superb touch of class to any book.
Noticeable Difference
Once you hold your book in your hands, you will not only see the difference but also feel it! This option is available for all cover types, from glossy or matte to leather and linen.
Photo Book XT (extra thick)
The Pages
The difference is in weight and number of pages. In our regular photo books, two pages are glued together. The pages of the XT photo book are supported by an additional cardboard substrate with a weight of 600 g/m² and have a very special feel.
Individual Page Count
The thicker pages of the photo book XT reduce the maximum page count down to 36 pages. Starting with 10 pages, you can expand your photo book XT, as usual, in the 2-page increments.
We share the best ideas
Are you already following us on social media? Thanks to the many images and customer messages that reach us every week, a collection of interesting photo projects and many creative ideas are created here. Stop by and be inspired!
FAQ
Do all your photo books have Lay Flat binding?
Yes, the LayFlat, panorama binding is included in all of our photo books. You do not have to select it separately.
How do I change the format of the photo book?
Save your photo book. Then, under Article, select "Convert article" and choose a format. Keep the same number of pages and save the project under a new name.
How many pages can my photo book have?
Our standard photo books range from 26 to 160 pages in all formats, depending on the surface of the spreads. The only exception is our 42 x 28 photo book where the maximum number of pages is 100 and our XT photo book (10-36 pages).
Can I put text or clipart on leather or linen?
Yes, you can place text and clip art on the linen and the leather cover. This is also possible in colour.
Is there a spell check tool?
Our software includes a spell check function. Detected errors are underlined in red. You can also add your own words to the dictionary.
Can I label the spine of the book?
You can label the spine by creating a text field and selecting "To book spine" from the menu of the text box.
Were you unable to find an answer to your question? Ask us.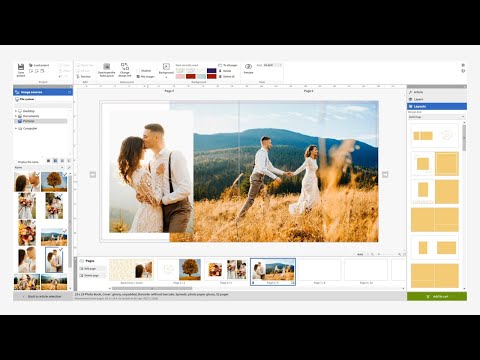 Saal Design Photo Book Tutorial
Discover the different design options the Saal Design Software offers you to create your fully personalized Photo Book. In this video we introduce you to the various configuration options and some of the available functions so you can design your Photo Book according to your time and needs.